From the name GA-20, many folks think the band is from Georgia, equating the name to the highway that runs through the Peach State. Others, myself included, thought it came from a type of shotgun. Not out of reach in my mind considering the type of music they play, but I was wrong as well. According to guitarist Matthew Stubbs, the name comes from the Gibson amplifier he was using when the band formed; a GA-20. Just that simple and yet it's an incredible metaphor for the overall sound of this Boston area trio.
Stubbs, along with fellow guitarist and lead singer Pat Fahertyand drummer Tim Carman, are traditional blues revivalists. By the end of that sentence, the reader has realized that there has been no mention of a bass player. That's because the GA-20 doesn't have one. Before your minds get too twisted in wondering how that's possible, think on the fact that Hound Dog Taylor's band, The Houserockers, didn't have one either. Neither did the late '50s Chicago band the Ice Cream Men, and several others. These groups, and many more are the sounds that GA-20 emulate, including on their soon to be released album, Crackdown.
My father's a musician. I grew up with his band always around, they would play blues and early rock and roll. And, you know, I started playing guitar around 13. By 15, I was super interested and kind of obsessed with traditional blues. 1950s, early '60s, American blues.

I liked Jimi Hendrix and stuff. I mean, I still do but pretty quickly my father introduced me to the guys that Hendrix was probably listening to, like Buddy Guy, early Buddy Guy stuff like that. And so yeah, the more I got into it, you know, I guess the traditional stuff always spoke to me more. Johnny 'Guitar' Watson, Earl Hooker, Guitar Slim, Gatemouth, stuff like that. I went from probably age 16 until probably 24 where I didn't listen to anything other than traditional blues. I mean, now I listen to all kinds of music in different bands, but those foundational years It was pretty much traditional 50s and early 60s.

A lot of that little Walter stuff had two guitars, no bass. Let's talk about stuff on people. When we first started, and it still happens a lot, 'Where's the bass player? You can't be in a blues band without a bass player.' And I always get a chuckle out of it, because, again, I think they probably haven't listened to those records, or they do listen to those, and they just don't realize there's no bass on there, you know, the way they're mixed and stuff. It still sounds full.

Matthew Stubbs
Crackdown is scheduled for release on September 9th, via the Colemine imprint, Karma Chief Records. It is the band's third studio album and nine of the 10 tracks are originals. While Stubbs shares songwriting duties with Faherty, all the band members contribute to the creation of GA-20's music and sound.
When their first album, Lonely Soul, hit our ears in 2019 it was, to say the least, culture shock. Most folks of a certain age came to know the blues through the backdoor of British blues rockers like the Rolling Stones, Clapton, and Peter Green. This rocking trio, however, had come upon it honestly, from the source. Lazy Lester, JB Lenoir, Earl Hooker, Buddy Guy, Otis Rush and Junior Wells were their influences and to listen to the record, one didn't even notice the absence of a bass.
It's definitely raw and garage. But it's like, I don't know. Like, Hound Dog played like that. There's lots of these Chicago guys that played with that energy. And they were raw like that. And I think, you know, that's one thing a lot of people don't realize these days, people that are not super familiar with blues, they hear the word blues, and their mind instantly goes to more of a moderate blues now that was definitely influenced by British Invasion blues. Not really. Their head doesn't go to, you know, Hound Dog Taylor or say Earl Hooker. They probably don't even know who those people are. They might have heard the name or something but that original stuff, man. I mean, to me that's as raw and rocking or punk rock as it gets, but it's traditional blues, you know?

Matthew Stubbs
And Stubbs knows of which he speaks. Not only was he turned on to original American blues at a young age, but spent several years performing it. Matthew is a 14-year veteran of Charlie Musselwhite's touring band, and has performed with James Cotton, John Hammond, and several others. As a band, in the early going, they opened for acts such as Sister Sparrow & the Dirty Birds, and toured with Eli "Paperboy" Reed. Now, they tour incessantly, drawing their energy from the crowds for which they play, be it intimate clubs or huge festivals.
Since we started the band we've focused on the story, the melody, and on creating a mood. Playing live as much as we do, we're finding more and more that people are discovering how cool it all is. Traditional country, soul and funk music have all had these massive recent revivals, but traditional blues so far has not.

Matthew Stubbs
That's all about to change.
Crackdown was recorded. In the same studio that we recorded our first record Lonely Soul. It's called Que Division in Somerville, Mass so it's right here in a suburb of Boston. See Crackdownthe one that's about to come out actually was recorded before the Hound Dog Taylor record (GA-20 Does Hound Dog Taylor: Try It…You Might Like It!), and then everything shut down [due to COVID-19].

We wanted to shelve it and wait until we could get out there and tour and support it. Because out of ten songs on it, nine are originals. We wanted to really have, you know, a fair shot and bringing these tunes to people in person. So during the pandemic, a few months in, Bruce [Iglauer] at Alligator Records hit us up to do a record with them. We are already signed Colemine Records, so I could I kind of cooked up the idea of ​​doing that tribute to Hound Dog because it was the 50th Anniversary of his first record on Alligator.

So I got those two labels to work together to release it for us. And we ended up releasing that. Just because like I said it was the 50th Anniversary year, and we've been compared to Hound Dog quite a bit because of the instrumentation, two guitars and drums and Chicago influence. So that's kind of how it happened. So Crackdown was actually like the follow up to our first record Lonely Soul. So it's taking that record to the next step.

Matthew Stubbs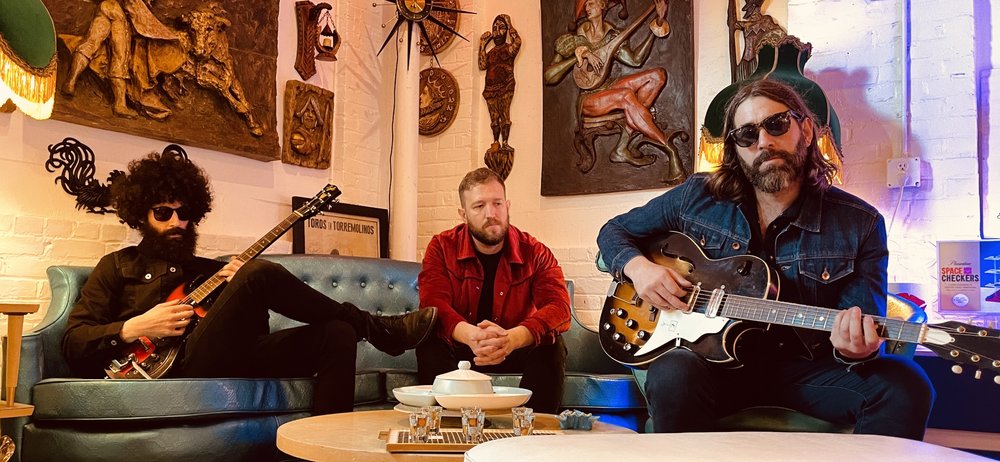 The question remains how a two-guitar and drum trio can create such a full sound. Stubbs explains the process.
When we first started the band, Pat and I, before we even wrote our own music, we were just doing songs that we like, cover songs. We were picking songs that would work for two guitars, no bass, and there's obviously some songs that probably won't work as good as others. And then from that, we kind of learned how to weave you know, like, we both solo and we both played bass. I mean, we're both bass players as well, even though we don't play it in this band. So we kind of learned like a little system that works for us. So we can switch back and forth and weave in a song. Some songs, for the most part, we're in standard tuning, but there's some songs that we tune down to D or C# especially since doing the Hound Dog record has some songs and C# so I'll have a guitar that's tuned down a little bit lower.

As we're making records, I do all the producing. All these records we put out I'm the producer and you know it comes down to how the amp sounds in the room. One thing we do, which, again, I think a lot of modern blues bands don't do, we don't really isolate anything. When we set up in the studio, the amplifiers are right next to the drums for the most part. So you're getting a lot of the room sound and a lot of bleed. Like there's drums in my guitar, and you know, vice versa, which a lot of people don't want because they don't have a huge amount of control later. You're just kind of recording a performance.

And so we spend a lot of time in the studio upfront, getting the drums to sound the way we want and picking the right amps. We use small amps in the studio because they're a little easier to control as far as like not getting too loud, you know, burying the drums, and then from there, I mix it. We just make sure that we use the correct guitars and if someone's playing the low end, we have certain guitars that do a better job at that. And just take our time mixing after.

Matthew Stubbs
This system works well. The first released track from Crackdown, "Easy on the Eyes," has the unmistakable sound of early post-war, electric Chicago blues. The blend and "weave" of the guitar parts fill in any blank space that may be left from the lack of bass guitar. But there's more. Faherty's vocal launches out like a rocket, if it were fueled by the love child of Charley Patton and Otis Rush. The energy in the song is palpable, and if it's any indication of other songs on Crackdownthe album will leave us breathless.
Stubbs gives us a glimpse of a couple tracks that he enjoys most.
One of my favorites on the record is called "Dry Run." It's a little different than stuff we've released so far. It's definitely influenced from country music. It's blues, but we were all listening a lot of country around that time. It's kind of like somewhere in between Jimmy Reed and Lazy Lester, you know, kind of blues in that regard. It's a shuffle, but then definitely the melody and the guitar is heavily influenced from traditional country music. So, to me, that's a standout.

Then the opening track on the album is called "Fairweather Friend." Again, a little different than what we've done. It's a little bit more like garage rock, '60s, very melodic. Those two are probably my favorite two songs on the record.

I think I want folks to listen with open ears. And, and if they're not already, kind of into blues music, you know, check it out with like I said, open ears. We're trying to start a little bit of a traditional blues revival. You know what I mean? I like all styles of blues, but there's not too many bands out there doing traditional blues like this. So hopefully people listen to it, and they'll dig it and maybe go back and listen to some of the other blues artists that we love, and kind of inspire us to make these records.

Matthew Stubbs
GA-20 has a couple shows in their area of ​​the Northeast before heading to the Big Blues Bender in Las Vegas on August 26th. After that, the Crackdown The release party will be held at The Basement East in Nashville, on September 10th. The band will tour the Western US throughout the remainder of September, cutting across the Midwest in October and ending the US leg of their tour back in Fall River, MA before heading to Europe for an extended tour beginning with the Lucerne Blues Festival in Switzerland on November 10th and 11th.
Matthew also shared with me that during the COVID-19 lockdown, they stayed busy, writing and recording two additional albums that are ready for release over the next year and a half or so.
Even the snootiest of Chicago blues purists can't pooh-pooh GA-20. They are the real deal, playing high energy, unvarnished, newly-written blues with a traditional sound. If you have the chance to catch them live, don't miss it. If you don't, definitely get your hands on Crackdownand crank it up to 12.